Establishment
Strong stories and gripping destinies
In the early 1940's, legendary publisher Adam Helms initiated the new publishing house Forum with the ambition to publish the best of popular non-fiction and translated fiction. Throughout the years, our list has developed to include original Swedish titles as well, and today we have a wide range of titles: everything from literary novels, light reading, crime fiction to biographies and documentaries.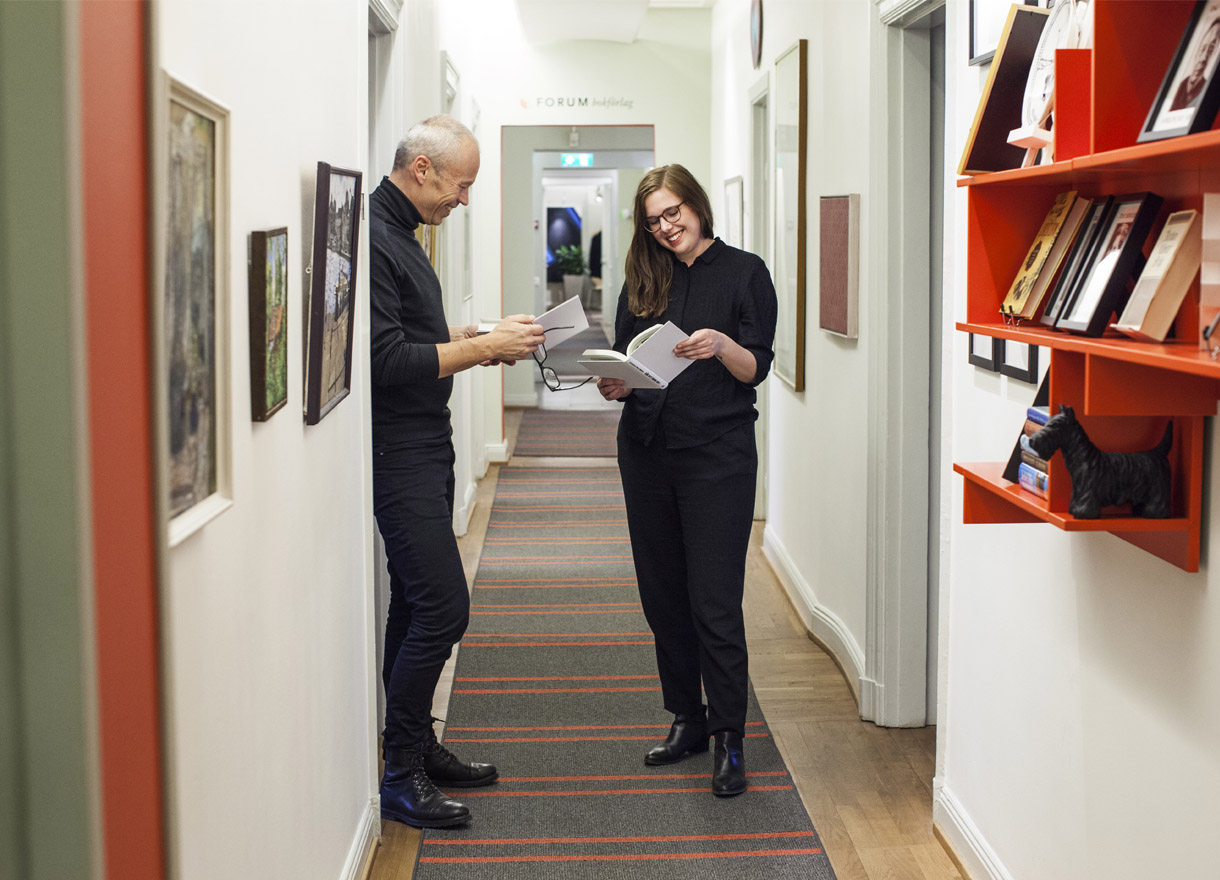 Today, Forum publishes approximately 70 titles per year, and our motto" the best in every genre" is as applicable today as when it was born in the 1940's. Our goal is to publish the books people talk about during their coffee break, that open eyes and minds, and that are read by those who usually say that they usually don't even open a book. We love strong stories and gripping destinies – and with these, it doesn't really matter if the author is a laborer or a Nobel prize winner, if the story is romantic or dystopian. We house all of them.
As of 2018, Forum also houses the boutique imprint Lovereads, which publishes smart and modern romance in Swedish.
Forum aims to be the small publishing company within the big house; pairing the close and personal relationships of a smaller publisher with the strength and professionalism of a bigger one. Most importantly, we always strive to work in a creative team with our authors to develop long and viable authorships. Not only are we one of the leading publishers of translated fiction in Sweden, we have also established a strong Swedish list, with authors like Stefan Ahnhem, Simona Ahrnstedt, Fredrik Backman, Maria Ernestam, Catharina Ingelman-Sundberg, Mons Kallentoft, Camilla Läckberg, Ninni Schulman and Viveca Sten.
Our staff of approximately 15 work with everything from acquiring new titles to editing, fact-checking, proof-reading, creating layouts and graphics – as well as making sure the finished books are seen both in-store and online in order to reach as many readers as possible.
If you are interested in buying foreign or film/tv rights, please contact Bonnier Rights, who represent most of our Swedish authors.
Meet our senior publishers:
Adam Dahlin – Publishing director at Forum, also specializing in Swedish original publishing.
Teresa Knochenhauer – Publisher responsible for foreign fiction whilst working with a select number of Swedish authors.
Ebba Östberg – Publisher responsible for the Forum imprint Lovereads.